Professional Bathroom Faucet Installation from Fillmore Plumbers Saves You Money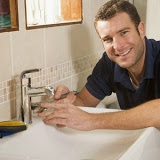 It's tempting to shirk calling a plumber for professional bathroom faucet installation in Fillmore, but before you nix the idea entirely consider the benefits. Yes, you'll pay a little more for installation, yet you could save a bundle down the line.
Don't Be Left with a Leaky Faucet
The easiest way to update the look of any bathroom in a short time is to replace dated faucets. The easiest way to spring a leak from your new faucet is to install it incorrectly. If a leak develops, you could end up damaging the faucet, creating a situation where water damage can occur, and need to call a Fillmore plumber for emergency repairs. That doesn't sound like a good deal to us!
Professional Bathroom Faucet Installation Ensures a Perfect Fit
You may think that you have the skills and tools to install a bathroom faucet, but that's not always how it ends up working out. We've seen it many times. A person buys a new faucet, grabs a wrench, and turns on a YouTube video. Seems straightforward until the faucet leaks from the bottom or falls off after one use. Hiring professional, licensed plumbers ensures that you get a perfect fit every single time.
Licensed Plumbers in Fillmore Guarantee their Work
The greatest value that homeowners receive from any professional plumbing service is a guarantee that everything will be fixed and installed without worry. Licensed and bonded plumbers in Fillmore care about the quality of their workmanship and always guarantee the labor. If you're not satisfied, your service professional will fix it for you free of charge. Will your neighbor who decided to help you install that faucet for a couple slices of pizza make the same guarantee? We'll let you think about that for a moment. We're pretty sure the answer is no.
For quality, cost-effective bathroom faucet installation in Fillmore, count on My Fillmore Plumber. We are the top-rated plumber near you for you all your plumbing repair and replacement needs.